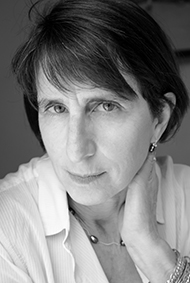 Jessica Greenbaum: Poet, Social Worker, Workshop Director
Jessica Greenbaum's work has "the joie de vivre of New York School poetics, tempered by the grief and reflectiveness of an experientially tested soul;" said Tony Hoagland, "When I read it, I feel myself open and relax in the world." A recipient of awards from The Poetry Society of America and the National Endowment for the Arts, her first book, Inventing Difficulty, won the Gerald Cable Award from Silverfish Review Press in 2000, her second, The Two Yvonnes, was chosen by Paul Muldoon for Princeton's Series of Contemporary American Poets and was named a Best Book of 2012 by Library Journal, and her most recent book, Spilled and Gone was named a Best Book of 2021 by The Boston Globe. Grace Shulman said the poems are "enlivened by keen observation, a fresh mind, and vivid sense of place that makes me want to be there, with her, in her world," and Rafael Campo said the book "transcends the limits of ordinary experiences, making of them indelible moments of human boundedness."
As an editor Greenbaum grew the poetry in the annual upstreet from its second to thirteenth year. In 2021 she co-edited, with Rabbi Hara Person, the first ever poetry Haggadah, Mishkan HaSeder, published by the Central Conference of American Rabbis, which won a silver medal in the Independent Publisher Book Awards. In 2022, she co-edited, with Jennifer Barber and Fred Marchant, the instantly lauded anthology Tree Lines: 21st century American Poems, which offers 125 poets of uniquely diverse visions of our orientations to the arboreal world.
Greenbaum teaches inside and outside academia. At Barnard and Vassar Colleges she has been a visiting instructor teaching poetry writing. In long-time classes at Central Synagogue and elsewhere she designs classes that look at the themes of Jewish text and pair it with those in contemporary poems. In her capacity as a social worker, she has long taught at DOROT, and also for communities who may have experienced trauma, including for people who have left ultra-Orthodoxy and survivors of childhood cancer. She is currently teaching an in-person generative workshops in Brooklyn Poets' space in Brooklyn Heights. Her husband, Jed Marcus, is the founder and president of One Community and they have two grown daughters.

Photograph: Leslie Jean-Bart

Poems in Community©
workshops are designed for small groups in New York City or on zoom anywhere. If you are part of any community looking to read and write together, or you want to join a group, contact Jess here.
Books: Spilled and Gone
Spilled and Gone: Boston Globe Best Books of 2021. Greenbaum specializes in agile joy: even during the height of the lockdown, she can marvel "at the good fortune/of my containment in this house" as well as at street life in a dense metropolis, "warm bread," "feral cherry tomatoes," demolition sites, and romantic connections of all kinds. Her third collection also deploys a variety of free verse forms, with line lengths and sentence shapes shifting and leaping up to match her – and maybe your – moods. — Stephanie Burt
Cover: Melissa Dias-Mandoly
More about Spilled and Gone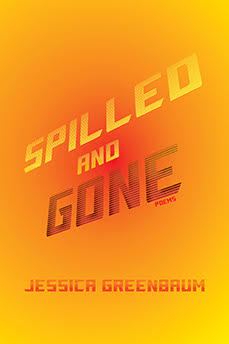 Books: The Two Yvonnes
Greenbaum's flood subject is the self and other (including the city), and her stylistic project is relational, an impulse that is heightened in the second book, perhaps partly because the subjects she treats require no invention of difficulty. Their concerns are profoundly adult: a sick child, a long marriage, a longer historical memory, and challenged faith. Her largely columnar poems, which are as storied as the buildings (and individuals) about which she writes, move chiefly by relation — phrases like as if, the way, how the abound. "We name life," she writes in "No Ideas But in Things," "in relation to whatever we step out from when we / open the door, and whatever comes back in on its own." — Lisa Russ Spaar
Cover: Ambling Between, Miriam Ancis
More about The Two Yvonnes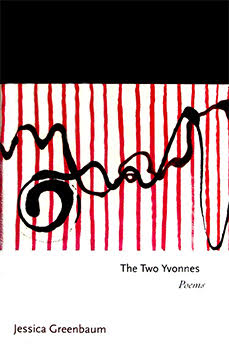 Books: Inventing Difficulty
Inventing Difficulty (2000), A sinewy, vividly intelligent humanity gives to this collection its memorable voice. In one sense, Jessica Greenbaum's poems are incisively local—that Brooklyn landscape out of Whitman and Hart Crane. In another sense, however, they tell of the larger sadness and recognitions of our century. They "design their world through love" and scrupulous observation. A first book by a poet very much to be listened to. — George Steiner
Cover: Gravity/The Way Things Are, Marcy Rosenblat
More about Inventing Difficulty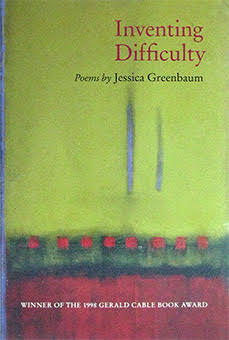 Books: Mishkan Haseder
Editors: Rabbi Hara E. Person & Jessica Greenbaum
"…a masterful Haggadah for this moment and for all time."

A weaving of liturgy, poetry, and artistry, this vibrant volume feels not only refreshing but also refocusing–on why the narrative matters, how it speaks to us, how it lives in us,and what it asks of us. I'm ordering thirty-five copies for my family seder." — Abigail Pogrebin
Cover: Art by Tobi Kahn
More about Mishkan Haseder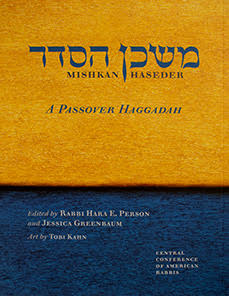 Books: Tree Lines Editors: Jennifer Barber, Jessica Greenbaum, Fred Marchant

"Tree Lines, a newly published anthology into which I'm currently dipping with great pleasure, trying to savor each poem without gulping, is a theme-based anthology (all poems about or featuring trees) whose contents are subdivided into thematic sections: "Where You are Planted"; "One Tree"; "Calendar"; and "Writing and telling." . . . At the same time, the range of poems all inspired by trees or a season or a virus showcases the individuality of poetic styles and voices. Juxtapose any two poems from Tree Lines, for example, and you have a ready-made lesson in the different ways poems deploy their elements, the variety of how a single what can be approached. . . .Jennifer Barber, Jessica Greenbaum, and Fred Marchant have done a beautiful job . . ." — Rachel Hadas, Los Angeles Review of Books
Cover: Neta Goren
More about Tree Lines